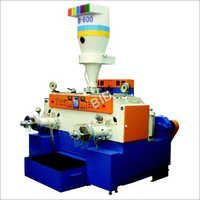 Pasta Press Machine 550 kg/hour
Product Description
Pasta Press Machine 550 kg/hour

To meet the predefined market norms and standards, we are offering the best quality Pasta Press 550 kg/hour to our prestigious clients. In sync with set industry standards, the provided machine is manufactured by utilizing supreme quality components and ultra modern technology under the stern guidance of our adroit professionals. This machine is used in food industry for the processing of pasta. In addition to this, the provided Pasta Press 550 kg/hour can be availed by our prestigious clients at industry leading prices.
Key Features:

Unmatched performance
Robust construction
Low power consumption
Less maintenance
Specifications of the pasta equipment

Revolving stabilization system in automated drying assembly
Automated weighing and packaging machine
Both after pressing (pre-steaming process) and after drying final chamber
Compactness
Vacuum environment mixing
Raw batching
Water consumption control with self-supporting hydro-system which also controls temperature according to the utilization purpose.
Simplicity in maintenance and operation
Technological process automatization
Further Details:
Sack tilter discharges the flour content to the 250 kg flour dressing unit which is mixed together to level the organoleptic and moisture characteristics of input materials. Then, foreign substances are removed using flour sifting machine. Sifted flour is communicated by air transporter to the service bin to the kneader bin by pneumo-electronic system. Finished vacuumized pasta is taken to the pressing head by the working cylinder. Pasta takes the shape of different pastes when passed through the die having extrusion nozzles. Fine speed adjustment of the cutting tool allows the production of 3 to 40 mm long paste.

Temperature conditions of water used for pasta kneading, working cylinder and pressing head cooling, are maintained by the press standalone hydraulic system. Press may operate without the water draining to the sewer system. Press may be fitted to the system as per the additional agreement.
Hence, formed pasta pieces are steamed to make them to improve pasta organoleptic attributes and make them more vitreous. The unit is fitted with needed safety and control automatic equipment.

Drying section is loaded with pasta to drying section by air conveyor with different layers. Cabinet drier is highly utilized for the minimization of paste moisture content from 33% to 12-13% with maximal accumulation of 4 hours.
Second steaming is done to the dry paste to eliminate internal stresses and prevent cracking. Then the inclined belt conveyor feeds the product to revolver type stabilization bin wherein it undergoes moisture distribution, final stabilization and cooling for 6 - 8 hours.
We utilize weighing and packaging system for the packaging of polypropylene packets from 400 gr to 1000gr. Dry pasta is loaded to packaging-and-weighing machines by using inclined belt conveyor. Packaging-and-weighing machine packages and doses pasta in packets at the speed of 20 packets/minute.
Contact Us
Plekhanova, 2, Street, 9, Dnipro, Dnipropetrovsk, 49000, Ukraine
Phone :380-56-3725022